The Downfall of Twitter
Since the platform was bought by Elon Musk, things have quickly gone downhill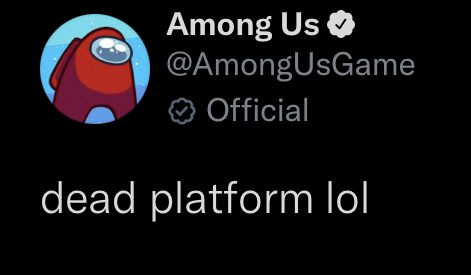 On October 27, 2022, Elon Musk bought Twitter for 44 billion dollars. His acquisition of the site was quite the troubling endeavor, as before buying the site, he told investors that he planned on laying off 75% of the company's over 7500 employees. On the day that he bought the site, he assured investors that the site wouldn't become a "free-for-all hellscape." Once the deal finally went through, he tweeted "the bird is free."
Soon afterwards, Musk launched an updated version of Twitter Blue, the paid subscription for the social media juggernaut. The 'new and improved' version gave users who bought the eight dollar subscription a verified check mark. Something of note is that there was no difference between the checkmarks; there was nothing telling users the difference between someone who was verified due to being a public figure and someone who paid eight dollars. This was noticed especially quickly by users and many "parody accounts" began popping up, the most notable being an impersonation account of the company Eli Lilly. Eli Lilly is a pharmaceutical giant, worth over 330 billion, who mainly supplies insulin.
That being said, when the fake Eli Lilly account tweeted, "We are excited to announce insulin is free now." The company was sent into a panic, as many people mistook the account as real, as it was verified. This situation resulted in Eli Lilly stocks dropping over 6%, costing the company billions of dollars. Twitter reacted to the situation slowly, as with over half the staff being cut, business took longer to attend to. The tweet was finally removed six hours after being posted, however, the damage was already done.
Due to the issues with the initial launch of Twitter Blue, the service was temporarily suspended, Musk citing that the service will be back on November 29 due to issues with the initial launch. But things don't get better quite yet, as on November 17, Twitter abruptly shut its offices. The shutdown occurred following Musk's ultimatum to employees that asked they adopt Musk's extremely "hardcore" work philosophy. The deadline to respond had passed, and less than half of Twitter's 4000 remaining employees agreed. With another huge drop in Twitter staff potentially imminent, assuming Musk stuck to his word, the internet became increasingly worried on how much longer Twitter will remain functional.
It was soon revealed that the shutdown of the Twitter offices was done in order to "prevent physical sabotage" as the company "sort[ed] out access revocations." This means they wanted to make sure that an employee, scorned by their recent loss of employment, didn't attempt to wreak havoc on the company on their way out. However, while all of this is happening, Twitter users logged on and immediately began mourning the platform, with many making jokes about Twitter being a 'dead platform.' On November 18, #RIPTwitter and #TwitterIsOverParty were trending sitewide, and the internet was practically up in flames. Everybody was plugging their other socials and making plans on where to migrate, many users talking about 'going back to Tumblr,' which led to the official Tumblr Twitter account (confusing I know) publishing a blank tweet of an image of a house with a banner that says, "Welcome Home Cheater."
The hysteria was felt far and wide, by people with accounts big and small, even by those who don't do anything other than retweet. Twitter has been extremely helpful in keeping people up to date, many people receiving their news from Twitter (for better or for worse.) The effects of Twitter's staff crisis were even felt throughout Grant. GCHS Senior Leilianis Rivera had much to say on the matter. "I get most of my news from Twitter …Twitter may be a hellscape, but it's my hellscape." This sentiment was echoed by GCHS Senior Stephanie Suchta, who added that "I get most of my news from Grant on Twitter." She also added that "it'd be a lot harder to keep up with community news without the platform."