It's All Worth it in The End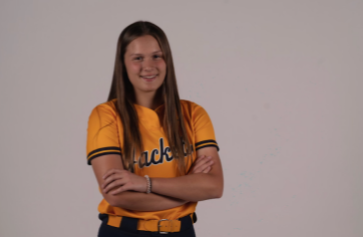 Q:  How old were you when you first started playing softball? 
"I started playing t-ball when I was 5 years old and softball at 7 years old."
Q:  What was the reason you started playing softball?
"My parents first put me in it to see if I'd like it, and I ended up loving it."
Q: Who is the most influential person, your biggest supporter? Why?
"Definitely my parents. They take so much time to go to my games and tournaments and they're always there when I need help with pitching or hitting."
Q: What steps have you taken through the years to get where you are today?
"I've pushed myself to get on to better teams. I've gone from lower level teams to the high level team I'm on now. I practice a lot, especially as a pitcher I have to practice more than most [other athletes]."
Q: Have you had any setbacks?
"I've had a few knee injuries that have made it difficult to play or made it so I was unable to play, but I always put in the work and the time to get better so that I can come back stronger than before." 
Q: Was Montana your #1 school? Let's say you got offers from other big schools such as Alabama or UCLA, would you still have picked Montana? 
"I think I still would have picked Montana. I knew I didn't want to go to a big, D1 school. I wanted something a bit smaller that would allow me to focus a bit more on my education while still being able to play." 
Q: What exactly drew you to the school? Was it because it was a smaller school?
"At first I didn't really know anything about the school. I got an email from the pitching coach about going to one of their camps and thought that it would be cool to see a different part of the country. I ended up loving the coaches and the overall vibe of the school. Overall what really made Montana one of my options was that it had an athletic training program, which is what I want to do."
Q: When you were offered a spot on the team, what was your initial reaction?
"I was first offered a spot in June. It was a huge surprise and I was practically speechless while talking to the coaches."
Q: If you could give your younger self one message what would it be? 
"Don't give up, it's all worth it in the end."