The Ways of the Holidays
Hang on for a minute...we're trying to find some more stories you might like.
The book of holiday traditions is endless. There isn't a place we can call the end because once you think you've found the last page you learn so much more and realize you are nowhere near the end. Although we may not know it, several people, including students here at Grant, celebrate different things for the holidays that we don't know much about. What traditions do students actually do, and how do they do it?
Antonina Kawecki is a senior here at Grant, and she celebrates the holidays following the Polish traditions her and her family have been doing for years. Antonina and her family celebrate Christmas with their own family twist. "We all get dressed, like, super fancy," says Antonina. "We cook the whole day before (Christmas Eve). We have a bunch of different dishes, I think it's like 12 or 13 […] different dishes. We sit down, we eat, and you have to try everything because it's rude if you don't." Antonina and her family also do not eat red meat during the holidays. On Christmas morning, they eat things such as fish and walnuts, according to Antonina. After they eat on Christmas Eve night, they move on to do a family tradition where the children do the finding of the 'first star'. "It's supposed to be like santa's sleigh," says Antonina. "That's what I always told my sister." After the star is found, the family goes on to unwrap presents for the remainder of Christmas Eve. "I like the way it's celebrated," says Antonins. "I feel like I don't have the patience to wait until morning (to open presents)."
A student with French descent celebrates the holidays in a unique way that is sure to surprise you. Tanner Newman is a senior here at Grant, and her family celebrates the holidays in their own special way. "Every year, we have a different theme for Christmas," says Tanner. "We've had Harry Potter, we've had Doctor Seuss, […] The Apocalypse was a theme. This year I get to pick and because i'm French, I'm choosing like French Victorian era decorations." Not only does Tanner's family celebrate each year with a new theme, they also do a 'secret santa' among everyone in the family. They do this on the 23rd of December, which also starts the tradition of small daily presents from their parents."We always get a present every day leading up to Christmas, which is fun," Tanner says. "I would not want to change anything (about the way my family celebrates the holidays). I adore it so much."
Samuel Winters is a senior here at Grant, and he celebrates Christmas and Hanukkah with his Jewish family. With celebrating Christmas and Hanukkah, Samuel's holiday usually consists of a lot of family. "We all get together, like during Christmas," says Samuel. "Usually all the extended family from my step dad's side gather and have a nice family party". Samuel's family also tends to shy away from the typical tradition of eating a large feast for the holidays. "We usually eat appetizers for the most of it," says Samuel. Samuel is overall happy with the way he celebrates the holidays, and he wouldn't want to change a thing. "It's amazing to be able to celebrate Hanukkah and Christmas." says Samuel.
Although you may not know it, every single person celebrates the holidays differently. Whether you have a different theme every year for the holidays or your family gathers together for a family party, the way your family celebrates the holidays is special. Have a Happy Holiday, Grant!
About the Writer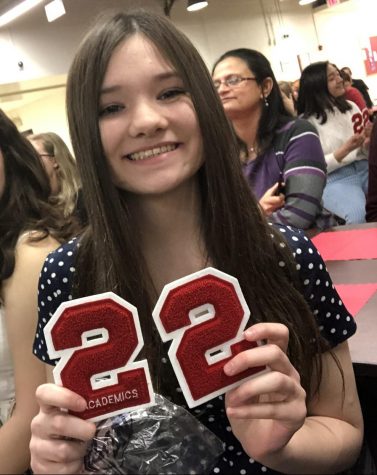 Andrea Lowry, Features
Andrea Lowry is a freshman at GCHS. She enjoys interviewing a variety of people for the newspaper, along with taking pictures and designing layout. She...