Turning it Around
At Grant we choose to support and encourage each other to help build a better community. By promoting the students who go here, we are developing a better understanding of those around us and showing others that we notice them. Most importantly, we are recognizing that students are humans and go through tough times that can cause setbacks. Sometimes things might get tough, but during these times is when we need the most support. These
setbacks do not define us and often cause tremendous growth as seen in the following stories.
WORKING AT HOME AND SCHOOL
Balancing time management, honors classes, and a job can be very demanding tasks. Alondra Lopez challenges herself everyday by accomplishing all of these. Dedicated, independent, and hardworking are only a few of the many adjectives you could use to describe her. Lopez constantly sets her expectations high. Currently, she works five days a week to pay for her own things and she also is enrolled in three honor's classes as opposed to the advanced courses she was in last year.
Alondra has also made some very big decisions which positively impacted her. She claims that she felt like she was in a "different place" than everyone else. Despite having some tricky situations at home, she decided to make the best of her situation. When given the choice between making negative decisions or being positive, she chooses to be a role model. Alondra inspires others to work hard for what they want and to never settle for less. Being direct and precise are key to her. She believes it is important to know your values and apply them to your everyday life. Alondra has set out on the right path and it's clear she will work hard and inspire others in the future.
WAITING TO WORK
When trying to stay motivated and achieve a task, procrastination can become an obstacle. Tyler Elfering knows this just like everyone else. Although he claims school hasn't been super complicated, he thinks that doing homework has been a challenge. Tyler struggled with procrastination but overcame it towards the end of last year. When asked about why staying on task is hard, he says that it is boring and feels unimportant. This began to lead him to a decline with his
grades. When Elfering began to start doing his homework more frequently, he noticed a positive reaction. His GPA went up, his grades were higher, and he overall found a better sense of who he is in school and out. Choosing to fight the urge in resisting to do homework has only benefited him.
TACKLING THE HURDLE OF INJURY
If you're looking for a powerful story about overcoming an injury, then Drue Polka is the perfect example. As a star on the girls track team, Drue has made tremendous progress as an athlete. Working tirelessly to become better at her sport is her main goal. When Polka suffered from several injuries throughout the season of her freshman year, it set her back. She felt defeated when she began to get shin splints because it tackled her emotional health. She claims, "I felt very weak all the time. So I didn't like that idea. I wanted to feel like a strong person." When asked about her current  progress she says that she is proud of how far she has come. Drue achieved several of her personal goals such as making varsity, going to most meets, and lasting the whole season without outstanding injuries.
STRESS ON THE TRACK
Danielle Osmon is a Junior here at Grant High School, and she has been through a lot within the past
year. In her freshman year, she was already running as a state qualifier in the 3200 for track. In her sophomore year, she continued to rise up, as she qualified for the state track meet for the 3200 and 1600. Her junior year, however, her femur began to stress, which made it hard for her to progress with track. "It's caused by when you pound too much on your bones, your bone's pretty much about to break, due to too much pressure on it," says Danielle. It is now her senior year, and she is ready to take another step forwards in track. Mr. Wodzien, an ELA teacher here at Grant, tells us about how he is proud of Danielle. "No matter what happens, she's always given 110%. I don't think I have ever seen her get down on herself or frustrated with herself through any situation."
TROUBLE TURNED
Ceci Favela is a Junior here at Grant High School, and she has grown a lot as a person over her years here at Grant. In the beginning, Ceci was struggling with motivation in class, and was distracting her classmates as a result. She and her teacher, Ms. Suehr, began to work together on Ceci's motivation. By the end of the year, Ceci was a much better student. "At the end of the year, she was actually encouraging others to try and get engaged. She kind of turned from a problem to a leader." Ms. Suehr, Ceci's sophomore team teacher Ms. Suehr goes on to say she is proud of Ceci, and the person she has become. "She has overcome her problems, and now she's doing really well in school.
In the future at Grant, we hope to achieve more student success. The academic and personal growth of our students is key to building a better community. Supporting and motivating each other will only make us better individuals. By learning to push through challenges and overcoming obstacles, we will continue to produce thoughtful and consider-
ate students.
About the Writers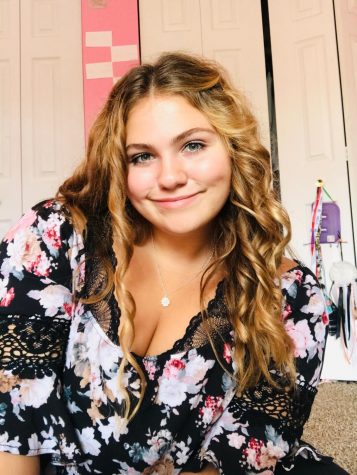 Elizabeth Newcomb, Editor in Chief
Elizabeth Newcomb is a senior at Grant Community High School and currently possesses the title of Editor in Chief. She enjoys creating an atmosphere for...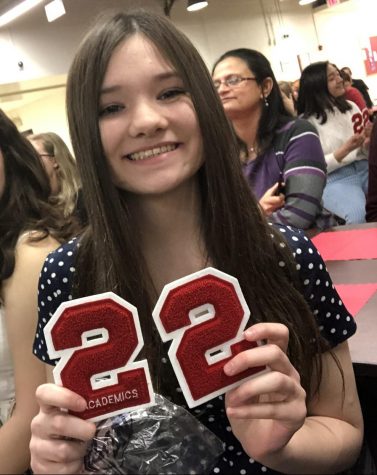 Andrea Lowry, Features
Andrea Lowry is a freshman at GCHS. She enjoys interviewing a variety of people for the newspaper, along with taking pictures and designing layout. She...