A Taste of the Winter Season
Winter cookie recipes you need to know.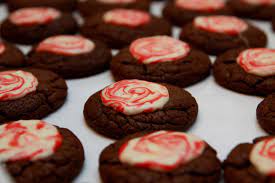 Chocolate Crinkle Cookies: 
Ingredients: 1 cup natural unsweetened cocoa powder, 1 1/2 cups granulated sugar, 1/2 cup vegetable oil, 4 large eggs, 2 teaspoons vanilla extract, 2 cups all-purpose flour, 2 teaspoons baking powder, 1 teaspoon espresso powder (optional), 1/2 teaspoon kosher salt, 1 cup powdered sugar
In the bowl of an electric mixer fitted with the paddle attachment (or beat by hand with a wooden spoon) beat together the cocoa powder, white sugar, and vegetable oil until it comes together into a shiny, gritty, black dough of sorts. 2. Add the eggs, one at a time, mixing for 30 seconds each. Add the vanilla and beat in thoroughly. 3. In a separate bowl, whisk together the flour, baking powder, salt, and espresso powder if using. 4. Mix into the chocolate mixture on low speed until just combined. Do not over-beat. 5. Cover the dough with plastic wrap and chill the dough for four hours or overnight. 6. Preheat the oven to 350°F and line two baking sheets with parchment paper. Place the powdered sugar in a wide bowl. 7. Using a rounded teaspoon, scoop out clumps of the chilled dough and roll them into 1-inch (2.5 cm) sized balls using your hands. Do several at a time and drop them into the powdered sugar as you go. The dough will be quite sticky, so it's useful to roll the dough in batches. Roll the balls in the powdered sugar and place on the cookie sheets spaced a few inches apart. Bake at 350°F for 10 to 13 minutes. Allow to cool a minute or two on the sheets before transferring to a wire rack to cool completely.
Chocolate Peppermint Cookies:
Put butter, dark brown sugar and water in a large saucepan and stir over low heat until melted. 2. Add dark chocolate chips and stir until most of the chocolate chips are melted, remove from heat and continue to stir until all the chocolate is melted. 3. Add in 1/2 tsp vanilla bean paste and mix well. 4. Pour into a large mixing bowl and allow to sit and cool for about 10 minutes, stirring a couple of times to help cooling. 5. Carefully measure 2 1/2 C of sifted all-purpose flour into a large bowl; add in baking soda and salt – sift together. 6. When the chocolate is cooler, add in one egg at a time beating each on high speed until completely blended. 7. Reduce the mixer speed to low and add in dry ingredients, don't forget to scrape the sides and bottom, until blended. 8. Chill the dough for about an hour – while it's chilling – unwrap the Candy Cane Kiss candies. 9. Preheat the oven to 350 F. 10. Roll dough into 1/2" to 1" balls and place on ungreased or parchment lined baking sheet about 1 1/2" apart. 11. Bake about 7 minutes (could be as long as 9 minutes – do NOT overbake). 12. When the cookies come out of the oven, place a Candy Cane Kiss on top of each hot cookie in the middle and let them sit about 5 minutes. 13. Using a toothpick, swirl the softened Candy Cane Kiss until you like the pattern, it will just melt down onto the cookie. 14. Remove the swirl topped cookies from the baking sheet and place them on a cooling rack in the refrigerator to set the candy. 15. Repeat with the rest of the dough and candies. 16. Serve chilled straight out of the refrigerator or at room temperature, either way is just delicious.