GCHS Annual Blood Drive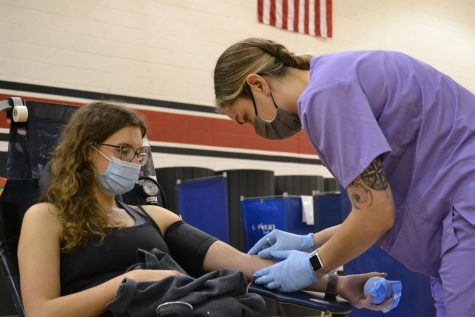 GCHS Senior Ashley Ranalli donates blood at the annual Blood Drive in the East Gym. Captured by- Eleanor Escobedo
By: Layton Norris
Every year there are vast numbers of people who require a blood transfusion in order to survive.
To fulfill the supply of the large quantity of blood demanded; hospitals need donations from good Samaritans.  Blood drives are an effective way to attract large numbers of donations at one time; at Grant Community High School, there is a blood drive held every year to enable students to donate and possibly help save a life. This year, the organization "Vitalant" came to Grant to accept donations from students.
This year's donation day took place on October 8th, in the East Gym. According to Vitalant member Kelli Donnely, upon collecting the blood, the organization "transports the blood to local hospitals, for them to have on standby in case of emergency." Kelli informed that the majority of this blood is distributed to "cancer patients, with the rest going to burn and trauma victims." 
The process of drawing blood is simple and is done quickly. Kelli divulged that the most critical part of the process is to ensure that one "has had a good meal and is properly hydrated before drawing blood." Apart from preparing yourself by ensuring you are well fed and hydrated, the process is quite simple and takes only a few minutes.
If you would like to donate your blood to help those in need, then be sure to sign up next year in the fall when the opportunity is presented. You must be at least 116 pounds, be over 16 years of age with parental permission, and have passed the medical questionnaire. One unit of blood will be drawn from each participant. A typical blood transfusion can potentially require up to ten units of blood, which means "10 people would [need] to have donated a unit of blood 3 days prior to the transfusion" for the blood to be available.
Ultimately if you were to donate blood, you, in collaboration with the rest of the blood donors, can contribute toward saving people whose lives depend on it. Kelli encourages everyone to donate blood, because all it takes is "you, and nine others to save a life," so go ahead and prepare a group of friends to participate in next year's blood drive!