Coach Spotlight; Coach Bosworth
Take a look into Coach Bosworths career and family life.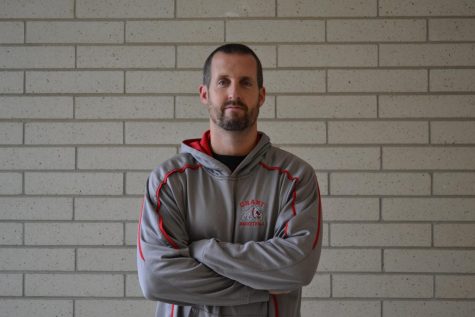 Wayne Bosworth, an alumnus of 15 years here at Grant, is now a gym teacher and coach at Grant. Bosworth has a wife, who is also an alumnus here at Grant and is a husband of 2. He coaches girls' badminton and varsity boys' basketball. Let's get a little more insight into Bosworth's life and career.
Do you have any special talents or surprising things someone might not know about you?
"One thing that people might not know about me, I mean most people associate me with basketball because I coached basketball for my whole career, but I also coached girls' badminton. I'm a decent badminton player too, and I really enjoy that sport."
Did you participate in your sport in high school and/or college, If so where?
  "Yeah, I played basketball here at Grant, I played basketball in college, University of Wisconsin Oshkosh, and then transferred and finished up at Elmhurst College."
Why did you become a basketball coach?
"I think that it's just rewarding, number one, to be a coach, but number two I'm super competitive, probably one of the most competitive people I know. I like to try to instill that in athletes to try to get that drive and that passion to be able to accomplish something when you don't think you can or you don't know that you can. It's cool to get that message across and see if someone realizes they can be better and that they can do more. It's just cool to see that when high school student-athletes are able to realize that and get to that point."
What is your coaching style or philosophy?
"Our philosophy in our basketball program is we want to play the best out there. Our conference as a whole competes in three A for the state tournament when it comes to the HSA state tournament series, but we're one of the few four A schools in our conference. We go up against all the big schools come state tournament time. Our conference doesn't help us prepare for that so much.  We try to play Stevenson and Warren in non-conference tournaments, so when we get to that state tournament our kids are ready and they've seen the best out there." 
What is your favorite moment in your athletic career?
"I remember, when I first got the job of coaching basketball, I was 26 years old, and I'll never forget one of the sports writers for Lake County told me you're never going to win a conference championship since North Chicago was in the conference and he said you're never going to win a regional championship because you guys are the smallest school in the biggest class. We won the conference championship and we won the regional championship. So just kind of proving people wrong like that is pretty cool."
Do you have any success stories from coaching?
"Our biggest success story, we have a lot of success stories, but our biggest one has to come from a kid that played from 2013 to 2017. John Kerr was on our freshman B team, but he had a great work ethic, was a great student, and worked his butt off. He ended up growing five inches between freshman year and senior year then went from the freshman B team to being an all-state player for us. He was a top 20 player in the Chicago land area and then went to college and was an all-American in college. Just a couple of months ago he signed a contract to play professional basketball overseas."
How much time does coaching take out of your life?
"It's a lot. Long days, especially in the winter, you're getting up when it's dark. You're going home when it's dark, not seeing the light very much. My wife's at home with the kids and she's pretty much a single mom during basketball season. So, I mean she deserves a lot of that credit during this time."
Do you think you spend more time with your family?
"During the season, it's probably more time with the team from November to March. Again, my wife's at home with the kids and she does an awesome job bringing our kids to things that are possible. Whether it's games, or even like blitz day picture day, all that type of stuff for the sports. They come to as many events as they can. It's really a family event when it comes to that stuff as opposed to feeling like I'm just with the team and the families over here. She does a great job of trying to include the kids. The kids know it's basketball season and they really feel just part of it as well as opposed to Dad's gone all the time. Its kind of like your team is your family. You also have another family who's also part of your team."
Do you think it's worth it to put your whole time and energy into coaching basketball?
"Yeah, it's absolutely worth it. Seeing the student-athletes succeed and to be successful. I mean, that's fantastic. It's hard at times when you go home sometimes and it's a rough day at the house. That's the hard part of it too. It's a double-edged sword, but absolutely for our kids in the program, it's definitely well worth it."
What's your favorite saying (in the context of sport and/ or life)?
"I've always been a believer of hard work pays off. You see those student-athletes come through and they have that little extra work ethic. You can see it right away in some of those kids. There's just a different mentality, a different level of confidence about themselves, a different level of "I don't care what anybody thinks", "I'm gonna go out there and do my job and just give them my all." It's cool to see that. That work ethic and that passion just to try and instill that in everybody."