Georgia Goes Democratic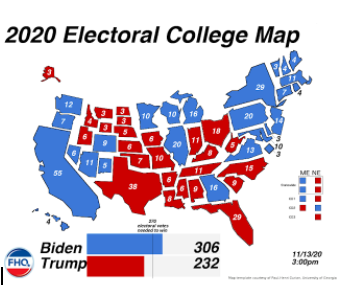 Sitting on pins and needles for many, the back and forth Yo-Yo effect of red vs. blue continued to race the many hearts of American's. As the final days slowly approached history was made, in many ways, right before your very eyes. Especially in the case of swing states like Georgia. Looking through old history books, Georgia has primarily been a Republican state for the past several years; in fact, the last time Georgia flashed blue was back in 1992 when President George H. W. Bush, just like Donald Trump was running for President again. 
William J. Clinton took the lead with three major candidates: Republican President George H. W. Bush, Democratic Mr. Clinton, and Independent Texas businessman Ross Perot. William J. Clinton had 370 electoral votes, George Bush had 168 electoral votes, and Ross Perot had 0. So what changed the strong Republican minds this election? Some may believe it was the Republican vs Democratic position on racial equality, while others steadily focused on the different supporting positions of the recovery plans for the coronavirus. As an important swing state to the election, the American people sat on the edge of their seats for what felt like years, while Georgia continued to count ballots to solidify the final outcome for the 2020 President-elect. The traditionally Republican State has been growing more and more into a Democratic state, and now officially announced a swing state. As thoughts continued to emerge on how or why the pendulum changes occurred with Georgia, I decided to take it to the streets and began reaching out to others on their opinions.
After asking a fellow history teacher from Grant Community High School, his thoughts as to why he thinks Georgia has become a Democratic state more recently than before, he opened up with a lot to say. "There are numerous factors to consider when looking at how votes are cast in swing states. Oftentimes, current events can affect voters' impressions of candidates. Although further research would be needed to better understand what is happening in Georgia, many Georgians could be greatly affected by the coronavirus pandemic and civil unrest that that nation experienced this past year, so they are voting for changes in political office in the hopes that these issues will be better dealt with." 
You may ask what defines swing states and why are they so critical to an election? Summing up what could traditionally become a long and political explanation; or debate for some: candidates and electoral votes earned. The efforts candidates make campaigning, the relationship-building they work hard to achieve and the community connections they long to earn are critical whether a red or blue state. However, for states that each candidate knows will continue to lock in with the current political stance, and color, candidates will conventionally limit their campaigning efforts within those states. Instead, they will amplify their efforts in states they know they must win over to guarantee they will lock in a Republican or Democratic win, and earn those electoral votes. 
Increasing efforts on politically undetermined states are more impactful and certainly can shock candidates like Georgia did in this 2020 Presidential race. Granite, this was not the first time Georgian's shocked candidate's with their ballot results; which is why Georgia has become even more valuable to both Trump and Biden. This 2020 race showed exactly how powerful swing states are to a presidential race, right or left, red or blue. Georgia, as a previously predominantly, registered Republican state, certainly made candidates take a second glance their way this election, especially given the last election outcome. For example, in 2016, just 5 percent of votes separated Hillary Clinton and Donald Trump, continuing to hold a strong red win for Republicans, electing Donald Trump President that year. Fast-forwarding to today, marking history, Georgia demonstrated the exact definition of a swing state, as the Georgian's closed the polls handing the final win to President-elect, Joe Biden; changing the state from Republican to Democratic.

Loading ...