Artist Spotlight- Megan Pahlow
Representing Grant within the art community as she creates unique pieces.
Have you ever wondered if the next Picasso was sitting right next to you in class? Amazing artists surround us everyday.
For example, Grant's Artist Spotlight Megan Pahlow is being recognized for her outstanding art. Megan placed silver in the Scholastic Art and Writing Awards. This was an exceptional achievement since this competition recognizes the whole Midwest.
As an artist, Megan features different types of pieces with colorful stylized drawings being her favorite type.
Megan is also very gifted with sewing. She has created several pieces within sewing class and at home. Some of her creations are pillows, pants, bean bags, and costumes. These can all be considered products from a very innovative mind.
What makes Megan unique is that she likes to use several colors and designs. Her style is completely her own and she takes pride in that. She also has a keen eye for famous art. She loves to create abstract paintings and trying to understand what the painter is trying to convey.
For others wishing to be as innovative as Megan, you should follow her own advice. She states, "If I could give any advice to aspiring artists it would be just to do what you love and don't let anyone stop you."
Megan went through some challenges when people told her that her style was wrong. Being original is what makes Megan great. She is unique with the way she creates and that is what makes her a truly extraordinary artist.
About the Writer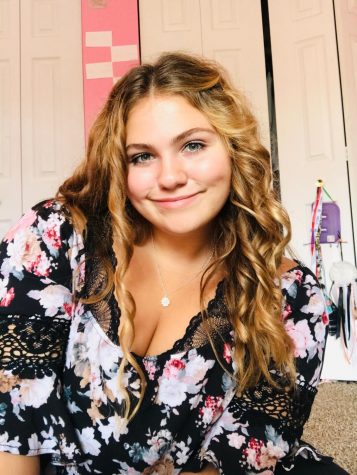 Elizabeth Newcomb, Editor in Chief
Elizabeth Newcomb is a junior at Grant Community High School and currently possesses the title of Editor in Chief. She enjoys creating an atmosphere for...