Consequential Coping
Each of us as humans have strange ways of coping with stress. Whether you bite your nails or pace around the room, it is obvious that there are other ways to manage your feelings. Despite that, many people indulge in unhealthy coping mechanisms such as hiding away all of their feelings or lashing out on people constantly.
Geometry teacher at Grant Community High School, Tisha Crambes claims that stressors within her life oftentimes contribute to how she handles her problems. "It depends on the type of stress. Family stress, you just have to move through it. You accept what it is and it just kind of passes."
However, sometimes throughout life there can be stressful situations that cannot be solved through waiting and that is when the unhealthy habits can kick in. Crambes stated, "Sometimes I eat through my stress. Sometimes a chocolate bar helps."
Following that statement, when asked about if it is healthy or not, she had a mixed answer. "I think it is pretty balanced. Most of the time, I think I just deal with stress and move on but, when it gets overpowering, I noticed I do snack a lot."
Switching perspectives, sophomore at Grant Community High School, Morgan Guinn claims that sports guide her through troublesome times.
Guinn stated, "I cope with stress by exercising and being in sports." After a couple of follow up questions, Guinn had to ponder about whether or not she thought her coping mechanism was considered healthy or unhealthy in her own opinion.
She replied by stating, "Instead of taking it out on people when I'm stressed out those those sports help me lift up a positive attitude and I get to take it out on basketball. I consider my coping mechanism to be healthy."
Although there can be pros and cons to how people handle their problems, the cons can be overbearing at times.
The same concept applies for junior Allie Johnson. In order to deal with her own issues, she turns to sports.
Johnson stated, "I cope with stress through track because I get to be wtih my friends and I get to focus on goals which keeps me from distractions."
However, when approaching coping mechanisms there can often times be temptation towards unhealthy habits.
Senior at Grant Community High School, Rachel Patel has a relatable yet unhealthy way dealing with personal issues.
She claims that in order to get by in stressful situations, she turns to her cellphone. Patel claims that relying on this specific coping mechanism is very easy. "I can talk to people on my phone. I can talk to people on Snapchat and get a response in an instant."
Within society today, teens and adults can be found turning to their social media accounts rather quickly.
Patel views her way of coping as an unhealthy issue. When asked about how often she's stressed she replied, "All the time." From this statement it can be inferred that Patel, and people who deal with situations similarly, can be found on their phones majority of the time.
No matter the coping mechanism you use, there are always better alternatives. Some find comfort in sports, communicating with others, art, or even having a yummy snack. Each of these ways of handling issues are unique to the person using them and can help take some of that pressure and stress away.
Nonetheless, the next time you're pacing around the room while biting your nails so hard they bleed, stop and take a deep breath instead.
Positively affirm yourself and then make a mental checklist of all the tasks you have at hand while creating a plan to conquer them. Otherwise you might end up without fingers and a huge amount of anxiety weighing on your shoulders.
About the Writer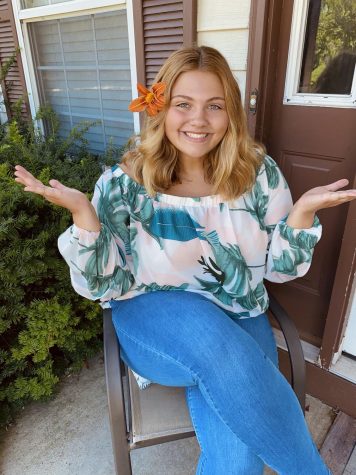 Elizabeth Newcomb, Editor in Chief
Elizabeth Newcomb is a senior at Grant Community High School and currently possesses the title of Editor in Chief. She enjoys creating an atmosphere for...