Covid-19 puts Fashion Industry on Hold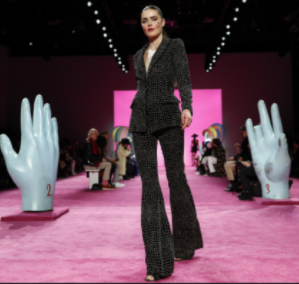 Nowadays wardrobe options have most likely been consumed by hoodies, yoga pants,

Loading ...

or for the very relaxed audience members, pajamas. What we tend to forget, no matter what outfit we chose for the day, or moment, is that it is designed by a reputable entrepreneur or for those who take that extra special moment to go all out; an elite fashion designer. 

Disguised behind the mask are brilliant designers that to are impacted by the coronavirus pandemic. For fashion guru's, the answer is grudgingly obvious on how the pandemic has impacted the industry. For those who love a good outfit, sweater, or a steal of a deal pair on Aeropostale jeans, the impact may seem different but still recognized by the tragic impacts of COVID-19. 

 

As the holiday season resounds, the fashion industry is trying to remain optimistic. Chief Executive Officer of American Eagle stated, "once again Aerie delivered outstanding results, demonstrating the power of this incredible brand and the massive opportunities ahead. We are very pleased with the early holiday trends in November and the strong response to our assortments". Unfortunately, not all within the fashion markets are experiencing the same outcomes, as it is troubling to see the numerous companies impacted by this pandemic. Including stores like H&M, who have typically been a hot spot to fashion, have unfortunately seen a traumatic impact in sales, and employment. 

In fact, H&M recently announced they will, unfortunately, be closing approximately 70% of their stores worldwide due to Covid-19; impacting many employee's jobs. Understandably, H&M does not make up the entire world of fashion, however, like H&M the industry relies on fashion events to boost interest, highlight sponsors, and capture actual sales. Therefore, when major events, such as Fashion week are tragically impacted by this pandemic, not only do sales continue to plummet, but so does employment. Why is such a week so important and lead to such impacts? Fashion week is one of the most renounced and elegant weeks known in the fashion industry. Similar to other industries that rely heavily on those highlighted moments; fashion week not only showcases the beauty behind the wardrobe but the essence of talent by so many up and coming artists. Like many events these days, fashion week has created a staple on trends and has a tremendous influence on standards of fashion. Even for those already well-known in the fashion industry, such as Marc Jacobs, Dolce Gabbana, Versace, and Prada, this major week is pivotal to their continued success; a connecting point to their infamous followers, new audience members, and future growth opportunities for their business. And of course, the continued recognition in fashion, while being stunned by new trends on the runway.

 

As the evolution of fashion keeps us on our toes, or heels for those fashion divas, the pandemic has impacted not only runway but the entire industry. As the iconic Meryl Streep elegantly captures the essence and importance of fashion for so many, in the whimsical yet flirty fashion film, Devil Wears Prada; her critique on Anne Hathaway's character was an infamous dialogue on what fashion means to the industry and buyers. When Hathaway's character labels fashion as 'stuff', Streep wittingly puts the intern in her place, advising the 'stuff' she mentions "represents millions of dollars and countless jobs". Teasingly being snuffed off by the clearance lover of fashion, Streep captures high-end fashion in the most appropriate way, while unknowingly referencing the direct impacts the future of fashion is faced with today; especially with the pandemic more present than ever. While traditionally the exhausting long physical and emotional hours, weeks, days, and for some, months spent in preparation for the infamous fashion week separated the good from the great. As Meryl Streep captured a very critical comment in that scene, each purchase does represent millions of dollars and countless jobs. Unfortunately, many artists, designers, seamstress, etc. have lost their careers to the impact of the coronavirus.

 

As the pandemic does indeed continue to impact so many aspects of fashion, there have been incredible positive influences too. Just ask one of Grant Community High School teachers, Ms. Qasabian, shares her thoughts on the pandemic in a recent interview, "the fashion industry has been impacted both positively and negatively. At the start of COVID-19 many name brand stores and designers teamed up and created masks to be donated for individuals in need. The pandemic has allowed many in the industry the opportunity to give back and dedicate more time to charities, etc.". Like a calm before the storm, it is wonderful to see a moment of kindness amongst an iconic industry. As American's hold onto hope in the horizon and the peak of light, reality, unfortunately, continues to combat hope these days. Even stores like American Eagle Inc., beyond their optimistic seasonal sales, has seen a significant decrease, leaping from their traditional 103 million to 96 million in sales. Sadly realizing no one, nor industry is untouchable anymore. The continued restrictions lead to delays in production and loss in both sales and jobs. In fact, many retailers are unable to allow their warehouse workers to return to work, which has significantly caused issues with online purchases, delaying income, and employment.

 

As hope remains, so should optimism. On one hand, some stores may not have a choice to close, but for those who still have a gleam of hope in the front windows of their store, they've altered their shopping experiences to abide by the necessary changes in hopes to encourage shoppers to still step outside the familiar four walls they've been staring at for months now. As the holiday season is literally amongst us, the hope is, fashion, along with many other industries will see a spike in sales and increased employment opportunities. Similar thoughts shared by Ms. Qasabian, "I do feel that the fashion industry will see a spike in sales because many people will be itching to attend social gatherings and will be excited to go out to the store and purchase a new outfit for their gatherings. Let's face it, a lot of people have been wearing sweatpants during their quarantine and I think are itching to dress up and purchase that new outfit!"

 

So what better time than now to not only start spreading that holiday cheer, while putting on that fancy outfit and start shopping. Even if that means creating your own at-home runway show!