Discovering The Leader Within Us All
Elucidating the process of blossoming into a leader and what it can be classified as within Grant Community High School.
Hang on for a minute...we're trying to find some more stories you might like.

Loading ...

In order to blossom into a productive leader or influencer, it is crucial to consider the 4 c's on how to behave. By acting composed, confident, consistent, and courageous, the world can become impacted by those who behave in a manner such as this.
Often times when reflecting on previous leaders that have served a purpose, many might think of President Abraham Lincoln, or perhaps John F. Kennedy. Both of these activists were prime examples of leaders who acted consistently with a respectful composure.
Other leaders that come to mind could be Oprah or The Queen of England. Each of these women are strong and confident with their power to guide a group. However, while these influencers produce the prime examples of well known and educated leaders, there is also a variety of other personal and unique leaders that surround society everyday who are much closer to home.
Specifically, within Grant Community High School, it could be obvious that Neil Knudsen is the exact prototype of a star student. Within the last four years, he has been a member of the math team, basketball team, student council, National Honors Society, theater, and to top it all off, he has been a representative on the Principal's Advisory Council.
With a plate that has been loaded full with responsibilities, Neil never lacks to find new ways to improve upon his leadership. He described the key to success as assisting others within finding themselves, so they can become role models as well.


"

Everybody has a niche; an atmosphere where they can reach their full potential…And as a leader it is up to you to help other people explore different things that they could be really good at, because that is what being a leader is; it is developing others."

— Neil Knudsen

¨Everybody has a niche; an atmosphere where they can reach their full potential…And as a leader it is up to you to help other people explore different things that they could be really good at, because that is what being a leader is; it is developing others.¨
However, in his humble opinion it can be inferred that becoming a successful superior has more to do with character and discovering yourself rather than always focusing on guiding others.
Neil stated, ¨Do not be who you were supposed to be, be who you are. Those are two different things. People have their expectations for you, but you know who you are… That is where you will thrive as a person and make the greatest difference on the people around you.¨
Similarly to Neil, fellow basketball team member and band enthusiast, Brei Paneras has a parallel mindset. He stated, "Just do you. If you're not staying true to yourself, then what's the point of anything?"
When asked about the type of leadership he personally demonstrates everyday, Brei highlighted what it takes to show character from setting an example. He believes that if students want to learn how to be in a position of power, they need to take action because anyone can become a better leader.
He followed that up by stating, "When I was younger, in elementary through eighth grade, I didn't really talk to too many people and as I got into high school I wanted to change it, so I did. I became more outgoing and started talking to the people who I thought I wouldn't want to talk to and now that I have more friends, I'm more outgoing."
Also within the Grant Community, there is one specific woman leader who has made a tremendous impact within the everyday lifestyle within this high school. To some she is known as Dr. Christine Sefcik, and to others she might be recognized as a real life example of Superwoman.
"First and foremost, being a leader means having a vision for what our organization can achieve. A good leader needs to be able to share the vision and be successful in motivating people to support and share in the vision. With the vision as our guiding force, I see leadership as providing an environment for individuals to feel valued and empowered, the resources for them to be successful, and trusting everyone will do their part to achieve our common goal."
As if that wasn't inspiring enough, Dr. Sefcik has motivated not only herself, but the people around her by demonstrating what it means to be a dedicated worker and a passionate mentor. When asked to reflect on her personal accomplishments, her answers show truly how deep her enthusiasm for diligence has come.
"There are many things in my life that I'm proud of, but my family comes to mind first. I completed both my Master's and doctoral degrees while working full-time and with young children at home…I'm also very proud to serve as the superintendent and be a part of the Grant community… When I began in 1996, there were approximately 800 students. We now have 1,863 students. Over the course of that time, so much has changed through the support of the community. We all benefit from having a campus that's safe, beautiful, and provides an excellent learning environment. Academic, extracurricular and co-curricular opportunities for students have expanded tremendously…There are so many things to be proud of here!"
It couldn't have been stated better than that. Grant Community High School has some of the best leadership qualities within students and staff.
One could only assume that each of these role models follow the four c's and have crafted a unique path for themselves and others to follow.
Perhaps even someday, Neil Knudsen could be the most influential president of the United States or Brei Paneras will be the next Oprah!
About the Writer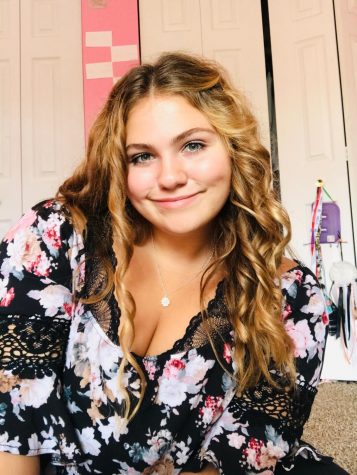 Elizabeth Newcomb, Editor in Chief
Elizabeth Newcomb is a junior at Grant Community High School and currently possesses the title of Editor in Chief. She enjoys creating an atmosphere for...