Retiring Bulldogs
Hang on for a minute...we're trying to find some more stories you might like.
MISS POMIJE
As many peowple would agree, it takes time to find a job in which you love. Miss Pomije, a special education teacher, has worked here at Grant for 16 years. Throughout her years of Grant employment, Miss Pomije has tried out different jobs across the school, searching for her passion. "I started [in 2003 as a] part time Foods teacher," says Miss Pomije. "I really enjoyed that, but I wanted to spend more time with my kids so I decided not to return. […] I came back in 2009 subbing as a sub. […] for spring semester 2010, [I was asked if] I wanted to work up at the front office [to fill in for an absent receptionist.]" Miss Pomije didn't find her passion in the special education field until she was offered the job with the front office. "I got to know a couple of teachers aids sitting up there," says Miss Pomije. "I would ask them about their jobs. […] I have always wanted to be more in the background, […] so I became a teacher's aide and I really liked it, it was a good fit for me." After working with Grant, Miss Pomije is sad to say goodbye. "I never woke up and said 'oh, I have to go to work', I was always like 'i'm so happy to come to work'. [This job was] just perfect for me." After retirement, Miss Pomije plans to do light traveling with her husband, and basically just relax and spend time with her family.
MISS ZIEGLER
For many people, working the same job for 12 years is way too much. For Miss Ziegler, 12 years was just enough. Miss Ziegler is a registrar here at Grant, and she's been working with the highschool since 2007.
Before starting at Grant, Miss Ziegler was trying out something a little different than school work. "I've wanted to work in a school," she says. "I worked corporate for a whole lot of years, until my company went out of business. [When that happened, I saw the] opportunity to come here."
Miss Ziegler has always wanted to work with a school, and she was sure a high school is where she wanted to be. "It's fun to be with little kids, I love my grandchildren dearly," she says. "But I think it's easier to communicate with teenagers. […] They may not let you know it, but they understand what your saying. Little kids are a bit tougher to communicate [and get across] to." When thinking about her overall experience working as a registrar, she couldn't be happier with the route in profession she chose to head in. "I've enjoyed working with teachers," she says. "I've also enjoyed working with students, and [overall] all of the staff that's around here."
After retirement, Miss Ziegler plans on staying home and relaxing with her grandchildren, along with focusing more on her favorite hobbies. " I'm going to be a grandma on call," she says. "So i'll probably do a lot of stuff with my grandkids. […] I do a lot of crafting, sewing, quilting, etc. I'm looking forwards to being able to spend time doing that."
MR RIETZ
20 years of teaching, and forever a woodworker at heart. Mr. Rietz is a tech and woods teacher here at Grant, and he is sadly preparing to retire and say goodbye to the job he knows and loves. Before starting as a woods teacher at Grant, Mr. Rietz was exploring the teaching opportunities in other high schools. "I taught woodworking mostly all my life," he says. "I've taught small engines, I've done 3D CAD, […] I did some cat classes, and technology classes." For Mr. Reitz, working as a woods teacher was definitely something he wanted to do. "I like to prepare students for a career," he says. "Especially if they're going into the trades because I was in the trades myself. I was a carpenter for 22 years."
Mr. Rietz gained an interest for woodworking when he was young. "My father was pretty handy, he did a lot around the house," he says. "My uncle was also a contractor. So, by the time I got to junior high, I was really excited to take the woods class."
After retirement, Mr. Rietz plans to continue woodworking as a hobby. "I plan on making custom cabinets, stuff like that," he says. "My wife has a huge to-do list for everything around the house, [so I also plan to use woodworking to help out.]"
25 YEARS
MR. EVANS
25 years, and several more to go. Mr. Evans is an instructional coach here, and he has spent the last 25 years working with the students of Grant. Through the past 25 years, Mr. Evans has experimented with a few different roles around the school. "I taught Spanish 1, 2, and 3 and Honors Spanish 2-3. That's pretty much all I've taught for 21 years," he says. I was also an assistant athletic director for 4 years while also being a classroom teacher. This is the third year of being a full-time instructional coach." Once Mr. Evans started instructional coaching, he knew he found his calling. "I love what i'm doing," he says. "If I'm able to do this for the rest of my time here, then great!" When thinking about the last 25 years with Grant, Mr. Evans is happy to have been here. "The staff I got to work with in my spanish department is an outstanding group of people," he says. "In addition, I am fortunate for a supportive administration who has provided me with opportunities to grow as an educator in different capacities, along within the sports teams that I've coached (Football and Track and Field). I've been able to coach alongside many amazing coaches, and of course, work with many fine student-athletes outside the classroom. The past four years being an instructional coach […] has been a great experience so far." Mr. Evans hopes to be able to continue with instructional coaching in the future of his career at Grant. "I absolutely love what I do. Relationships are very important to me and to this role, and to be able to get to know and work with so many great teachers each year and hopefully support them well enough to make an impact on the educational and social-emotional growth of our students is truly a blessing."
About the Writer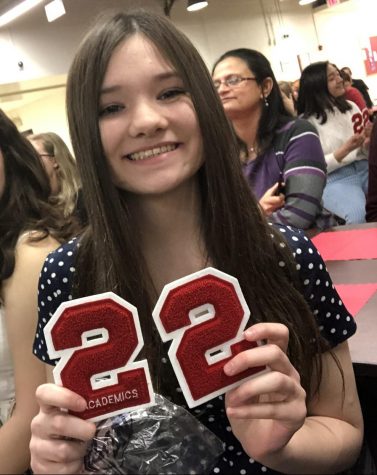 Andrea Lowry, Features
Andrea Lowry is a freshman at GCHS. She enjoys interviewing a variety of people for the newspaper, along with taking pictures and designing layout. She...