Holiday Cooking
Hang on for a minute...we're trying to find some more stories you might like.
The holiday season brings out many things. Family, celebration, tradition and so much more. One thing almost everyone does during the holidays though is eat special foods they reserved for this time of
year. Everyone eats something different, whether it be something simple that everyone knows about, or something different that maybe not many people have heard of. What do the students here at Grant eat during the holidays?
MOLE
Alejandra Salinas Gonzalas is a Junior here at Grant. Considering her heritage is Mexican, Alejandra's family eats Mexican food on a regular basis. Something her family eats frequently during the holidays is a Mexican dish called Mole. It consists of things such as nuts, Mole fruits, garlic, and onions. "[I have been eating this for] my entire life," says Alejandra.
RUSSIAN VEGETABLE PIE
Marie Florev is a senior here, and her family eats foods from Russian tradition for the holidays. Something her family eats during the holidays is called a Russian vegetable pie. " It's kind of like if you baked a pie but instead
of a filling, it's still crusted," says Marie. "At the very top is more crust there's, like, [egg and egg white.]"
BEIGNET
Another student here at Grant celebrates the holidays with an African tradition. Gurritha Muntu is a sophomore at grant, and she and her family eat several different kinds of foods, one being a French dish named Beignet. "The country I come from, we were colonized by a French country, Belgium." says Gurritha. "So we have some French food." Beignet can consist of sugar, milk, lard, and more. "It's really good," Gurritha says. "You can eat it with peanut butter or nutella. Some people eat it with hot sauce."
MOLE
Step 1: Heat two teaspoons of
Vegetable Oil in a saucepan with
medium heat.
Step 2: Cook 1/4 cup of onions
in the oil until they are tender
Step 3: Mix in one teaspoon of
ground cumin, unsweetened
cocoa powder, cilantro, and 1/8
tablespoon of minced garlic
Step 4: Stir in 10.75 ounces of
tomato soup and 4 ounces of
green chile peppers
Step 5: Bring to boil, reduce
heat, and simmer for 10 minutes.
Credit to allrecipes.com
RUSSIAN VEGETABLE PIE
Step 1: Heat your oven to 400 ferenheit,
Step 2: Bring water to a boil, and remove it
form heat.
Step 3: Place 4 eggs in the boiling water
for 11 minutes, then remove the eggs. Peel
them and slice them.
Step 4: In a seperate bowl, combine 1 1/4
cups of flower, 1 teaspoon of salt and white
sugar. Add butter until the mixture seems to
crumble, and then add 4 ounces or cream
cheese, until it's in a shape of a ball.
Step 5: roll 2/3 of the dough. Take the
remaining dough and make a circle to fit
inside of a 9 inch pie pan. Put aside.
Step 6: Melt 2 tablespoons of butter in a
skillet. Add in 1 chopped onion and 1 small
cabbage and saute. Season, and saute
until onions are soft. Set aside.
Step 7: Add a tablespoon of butter to a
pan and saute 8 sliced mushrooms for 6
minutes. Set aside.
Step 8: Spread cream cheese on the
bottome of the pie crust. Place the egg
slices in a layer on top, the sprinkle it with
dill. cover them with the cabbage. Place
the mushrooms on top, then finish off with
the circle of dough from earlier. cut small
slashes in the top.
Step 9: Place in the preheated over for
15 minutes. Lower the temperature to 350
degrees, and bake for 25 minutes.
Credit to allrecipes.com
BEIGNET
Step 1: In a bowl, dissolve 2 1/4
teaspoons of yeast in warm water.
Add in 1/2 cup of sugar, a teaspoon of
salt, 2 eggs, 1 cup of evaporated milk
and mix. Add 4 cups of flour and mix
till smooth. Add 1/4 cup of shorten-
ing, and then three more cups of flour.
Cover, and chill for 24 hours.
Step 2: roll out the dough to be
1/8 inch thick. Cut it into 2 1/2 inch
squares. Fry them in 1 quart of 360
degree vegetable oil. (The beignets
should pop up to the top of the oil, if
the temperature is hot enough.) Drain
them onto a paper towel.
Step 4: Sprinkle confectioners sugar
over the top.
Credit to allrecipes.com
About the Writer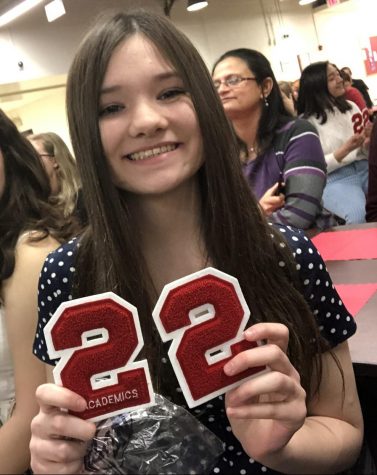 Andrea Lowry, Features
Andrea Lowry is a freshman at GCHS. She enjoys interviewing a variety of people for the newspaper, along with taking pictures and designing layout. She...