Embracing the Drive To Succeed
Saxophone enthusiast Sam Winters has a ton of school spirit and an even better attitude to go along with it. Throughout his time here at Grant, Winters has made several connections and learned lessons that will last him a lifetime.
Throughout the course of his four years, he has participated in Marching Band, Jazz Band, Concert Band, Pep Band, Fall Plays and Spring Musicals, Concert Choir, Chambers Singers, Anthem Singers, Barbershop Quartets, and Jazz Ensemble. Each of these have impacted the way Sam manages his time and also how to chase his dreams/pursue his passions.
However, as anyone can infer, dreams don't always come easily. They take hard work, dedication, and most importantly the drive to achieve those goals. Sam Winters knows this better than anyone else! Whenever he got discouraged, he reminded himself that it's "okay to fail" and to pick himself back up again to retry.
Advice for underclassmen that Sam has developed throughout the years would be, "It's okay to take a break or a day off. Mental Health is super important." Following this statement, Winters also wanted spread a message about college that he wishes he would've been told. He stated, "The college admission process is crazy, try not to compare yourself to others, your best is enough."
Compared to freshman year, Sam has made tremendous progress with the social aspect of his life. He stated, "Freshmen year I was really cold-hearted, I would say I'm a lot more empathetic." This is a learned skill that he will take with him for the rest of his life as he continues on his journey.
However, as high school begins to come to an end, Sam finds himself questioning what he will miss. What motivated him? Whose face will he miss seeing in the hallway? Or even which class he will miss the most? Each of these questions appear at the back of seniors' minds and it is safe to say that Sam has pinpointed exactly his answers.
He stated, "I will definitely miss my teachers and seeing the people I never see outside of school everyday."
Following the concluding year for his education at Grant, Sam has larger plans approaching on the horizon. He stated, "I'm attending UIC in their Applied Health Science and Honors Colleges. My intended major is Kinesiology with a possible minor in Bioengineering or Music depending on how things work out. I will either be going to PA or Med school depending on which options work the best."
Nonetheless, whatever path Sam Winters chooses to take will be an adventure for him to embark upon. Whatever challenges he comes across, he will handle them proficiently based on the skills he adapted from high school.
About the Contributor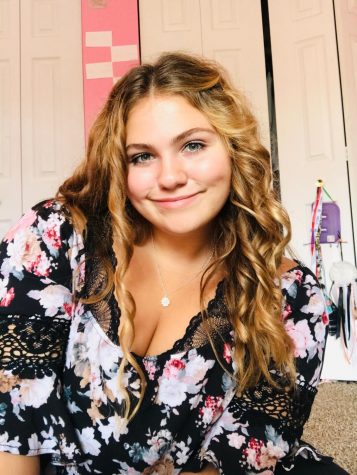 Elizabeth Newcomb, Editor in Chief
Elizabeth Newcomb is a senior at Grant Community High School and currently possesses the title of Editor in Chief. She enjoys creating an atmosphere for...