The Cost Of Protection
Hang on for a minute...we're trying to find some more stories you might like.
Whether you've made a drastically poor decision that resulted in a felony charge, or if you're a plain-old careless teen who was pulled over for speeding, one thing remains constant: you are going to have an encounter with the police. At first, it can be terrifying. The flashing blue and red lights intimidate people and make their hearts race.
However, unless you've robbed a bank, you're probably going to be alright. When cooperated with, the police are the most accommodating and orderly people one could ever meet.
Nonetheless, the police aren't always respected as they should be. Police Officers work to serve and protect the public, which is innately dangerous. According to the Officer Down Memorial Page, twenty police officers were murdered viciously this year alone.
Police deaths in the line of duty have significantly increased in the last four years. According to The National Law Enforcement Officers Memorial Fund, between the years 2015 and 2016, the number of police officer deaths in the line of duty increased 10% and the percentage of deaths from gunfire increased to 56%. During that year, forty-one officers had been killed which also indicates that it was the highest rate since 2011.
According to an article written by USA Today, it was stated that within the year 2018, there were 46 officers who were fatally shot. The National Law Enforcement Officers Memorial Fund also calculated the number of gunfire-related deaths. There were eleven tragedies within 2019 this year so far.
Clearly, this is an issue worthy of public attention. Within every police department, there are people who risk their lives every day and put themselves in precarious situations for the public's benefit. With that being said, why are these individuals being targeted?
The answer is somewhere within a gray area. Every situation and case has a different motive, so there isn't a direct response as to why this keeps happening. Despite the lack of a definitive reason, there is no excuse to change how relevant or heartbreaking this topic is.
The student resource officer at Grant Community High School, Matthew Malczewski stated, "You see it happening in the news every day in some places…One of my biggest fears is not being able to see my family grow up. The fact I might not be at a wedding or have met my grandkids is always in the back of my mind."
Based on Malczewski's personal thoughts, it is evident that this possibly occurs within the minds of every service member. The idea of 'Is this my last day with my family' and 'what if something goes wrong today' is relevant to members of the blue community within every moment they're on the job and even more so when they're not.
Surviving every day is precarious and can seem as if they never know when or if something is going to go badly or not. When and if something does go wrong, it doesn't just affect the people who knew the officer closely, but instead the entire community.
The loss of an officer wounds more of the public than people might realize at first glance. It is a gaping hole in the hearts of every person who was influenced by them. Friends, family, colleagues, and even others who will only ever hear the stories of this brave soul are all deeply impacted.
Throughout the nation, news of fallen heroes shakes up people's emotions. They are angry, saddened, and confused as to why this keeps happening. What is going wrong within society today that is allowing for this issue to be so prevalent? Whenever life seems to take a turn for the worst, the police are always there and willing to lend a hand.
Despite the fact that some people within this world feel the need to neglect that, there are many who choose to acknowledge and embrace that feeling of security. For every fallen officer, there are grand gestures of honor for that person such as peaceful protests and parades within the community for that person. On a smaller note, strangers often share Facebook posts in awareness of this issue and to spread the word that what's happening isn't okay.
Although there may not be a clear cut answer about how to solve this or change the world we live in today, there is one crucial message that can be spread. If the public were to appreciate the daily tasks the police department endures for them, then perhaps this issue of violence against the police would minimize itself.
If not, at least the idea that blue lives are real, valuable, and matter could be spread as well.
About the Writer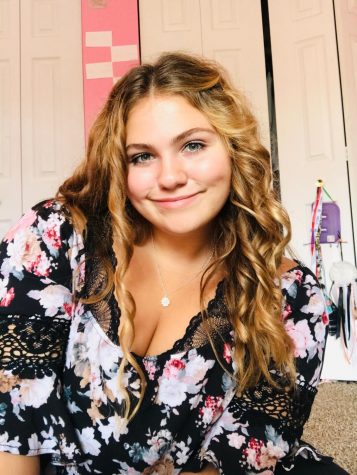 Elizabeth Newcomb, Editor in Chief
Elizabeth Newcomb is a junior at Grant Community High School and currently possesses the title of Editor in Chief. She enjoys creating an atmosphere for...