A Parallel Journey
Hang on for a minute...we're trying to find some more stories you might like.
At first glance, Yamin Ahmed might appear to only be the popular and goofy boy that you always hear speaking at all of our pep rallies. However, Grant's 2019 Grant senior class president has a deeper layer to himself that the public doesn't always realize.
Being a member on the boys wrestling team, treasurer of the student council, and also being voted in as senior class president are all examples of how he managed to stay involved within the Grant community to become a dedicated student. Along this journey of service, he has had the chance to talk with many people and even speak at several of the pep rallies.
When asked about his relationship with his peers to whom he represents, he stated, "I think I worked hard to have a close relationship with my peers and everyone in my class. I wanted to be friends with everyone."
Along with building bonds with the students and staff within Grant, he also had the chance to take on a great role of responsibility by planning certain events. For example, Yamin took the role of supervising Senior Assassin this year, organizing the ABC countdown for seniors, and he also assisted with the planning of homecoming week with the student council.
Throughout his time at Grant Community High School, Yamin had the chance to develop his character and dig deep into who he wants to be in the future aside from who he is now.
"I wanted to be known for being more involved. I wanted to run things and gain those leadership skills. I had this epiphany that I had a drive in me that wanted to do more and I just wish that I had started doing that sooner."
However, as High School begins to wrap up for Yamin, he is left with one final epiphany about his time here at Grant and the lessons he's learned. He stated, "Everything comes and goes. I'm not sure what the future has in store for me, but I know it's going to be alright and I'll find a way. I'm definitely going to miss everyone, but I'm also going to find new people too. I'm glad I've met the people I've met in my life."
Shy, independent, and incredibly intelligent are only a few of the words that could be used to describe Drew Hinkle. Along with that, she is very focused on her dedication to education and time spent at Grant Community High School.
When describing her high school career, Drew stated, "I would describe my high school career as fairly normal, nothing too special. I tried to have fun and participate with what I wanted to." As a senior, she joined environmental club and took yearbook which were two activities she thoroughly enjoyed.
Finding motivation to do well in school and maintain a decent academic life requires inspiration in general. Drew believes that her teachers have been the biggest role models and contributors to her academic success.
"I would say my teachers definitely inspired me to always do my best and try my hardest. Every single one of my teachers have been there and have always been willing to push me in the right direction."
However, she would also like to pay special thanks to her parents as well because they encouraged her to always do what she can and support her in every way possible.
Throughout her four years at Grant, Drew has had a massive amount of time to reflect on her high school career. She stated, "I learned that throughout you just have to be yourself and enjoy life, have fun while it lasts because it goes by so quick. I also learned that you have to take some risks in order for you to get where or what you want."
Following that confident advice, comes certain fears for the precarious future. For example, graduation day itself is a worry for her. Drew stated, "I feel very nervous as the days approach…The ceremony will definitely be emotional because I am going to miss everyone and everything at that school."
Nonetheless, Drew has a bright future ahead of her no matter what she chooses to do after graduation. She would like to attend CLC to take care of her gen eds before possibly transfering to a university where she will select a major to pursue later in life. Until then, she will carry with her the knowledge she obtained from high school as well as the skills she will utilize later in life.
About the Contributors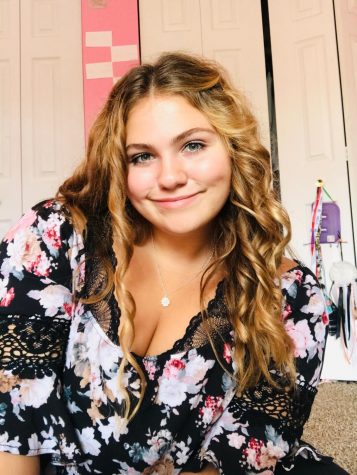 Elizabeth Newcomb, Editor in Chief
Elizabeth Newcomb is a junior at Grant Community High School and currently possesses the title of Editor in Chief. She enjoys creating an atmosphere for...