Lending A Hand For Life
Hang on for a minute...we're trying to find some more stories you might like.
We've all seen one of Grant's very own theater productions. Each and every time the audience is left amazed and proud of everyone on stage and behind the curtain. Katie Dinschel especially knows how all of the hard word and dedication that goes into each and every show. She has been a member of the theater crew for three years while attending school and Grant.
Along with theater, Katie has also found interest in service activities such as joining Grant's Chapter of the National Honor Society within her sophomore year.
Her aspirations in life include the morals of helping others in need and lending a hand whenever possible. She enjoys volunteering her time, effort, and patience which develops her character. Nonetheless, she is also very talented at being an inspiration to others within the community.
For example, annually Katie visits Stanton Middle School (the school where she attended) and speaks to the eighth grade graduating class. Her words of affirmation and encouragement are prime examples of how she makes an impact with the underclassmen.
When asked about the transitions she made as a person from her freshman year to senior year, she describes it as a very positive experience. She stated, "I am definitely a lot more ambitious and slightly more outgoing than I ever was when I started high school. I learned a lot about myself over the course of the last four years. I think a lot of people learn to grow out of their shells in the span of their high school career and most of it stems from how active a person is in his/her school community."
In her own words, Katie described how high school has been nothing but beneficial for her and her growth as a human being. Some of the lessons she learned are universal and underclassmen could benefit from learning as well.
"'Be nice to people and spread happiness' has been my absolute favorite string of words to live by. You never truly know what a person might be going through, especially in a time as difficult as high school, so it's extremely important to always be kind. A simple smile could change a person's day. Life is too short to fester in the negativity."
Along with spreading positivity, Katie understands what it feels like to be anxious about new opportunities. For example, when she was entering high school her freshman year, she remembers being so nervous about it that she would watch Youtube videos about life hacks to make the experience easier. She highly recommends that to underclassmen as well if they're ever feeling unsure about any aspect of high school.
However, as high school begins to reach an end, Katie stated there were several aspects of high school that she will miss. She claimed, " I will most certainly miss the relationships that I've developed with my teachers. Their unconditional support and friendliness toward me has built my character beyond measure and reminded me of the importance of doing the same for others."
About the Writer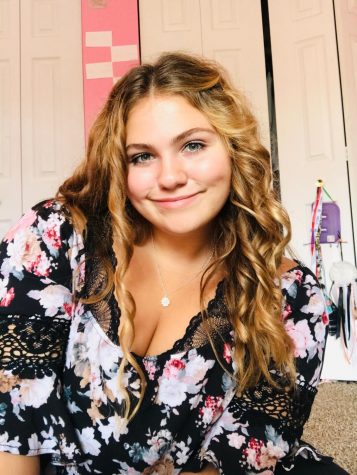 Elizabeth Newcomb, Editor in Chief
Elizabeth Newcomb is a junior at Grant Community High School and currently possesses the title of Editor in Chief. She enjoys creating an atmosphere for...