Club Spotlight
When and where?
Guitar club meets after school every Wednesday until 4:00 in room 252 in the English hallway.
What is guitar club?
Most people when learning how to play an instrument give up before they can learn how to play correctly. Guitar club give people a place to advance their skills and they get to meet other musicians who can teach what they have learned. 
What do you need to know?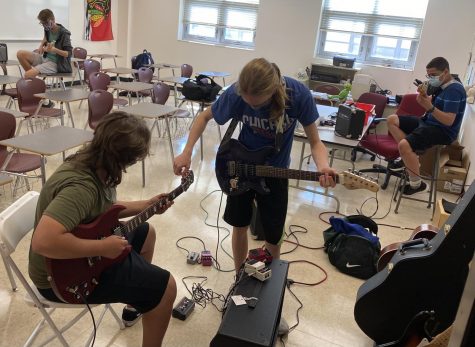 Everyone is invited. You don't have to be an excellent guitarist to join. If you don't always have time for another club, that's alright. The sponsor of the guitar club, Mr. Fischer, invites you to come and go as you please. Guitar club tends not to stick to a strict schedule, with their activities varying day to day. One day they will come together and play as a group and others they will split off and work individually.
Member quote 
"Everybody has their own interests, and I want students to be able to enjoy that and engage that." – Luke Fischer