Keeping Good Mental Health During Competition Season
The girls give us there thoughts on how to have a good season.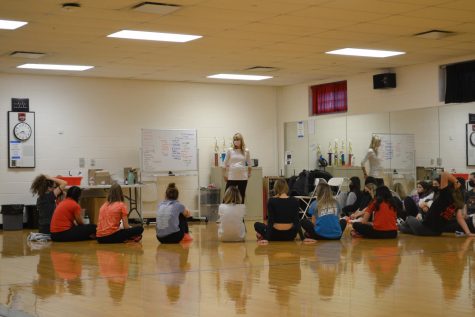 Mental health tends to be a struggle for all high school students all across the board, but when they are involved in a competitive sport, it's a whole different story. Imagine competing every weekend for a month against other schools with a crowd raging at you. Intimidating, right?
The Grant Dance program consists of two teams, each made up of 30 students. Although the dance team goes straight from football season to competition season, they are two completely different seasons, but both come with intense mental preparation for all the early morning and late-night practices.
Coach Shifely, Gruber, and Beard all strive to ensure that these dancers maintain a good mindset through the season by reminding the dancers why they are a part of the dance. One of Coach Shifely's favorite things to do at least once a week is to have a conversation with everyone about how they are feeling, their team goals for the week, and if they achieved the previous ones they made. Coach Shifely has also found that journaling and writing her feelings down has helped her stay on track when it comes to keeping herself motivated, and the influence it had on her life was so great that she worked to integrate that part of her life with the team. Now, the dance team has monthly sessions where they write whatever they need to at the moment, and it often includes their goals, emotions, thoughts on dance, school, and life together. Each member has their own scheduled dates where they get a one-on-one talk with the coaches to make sure they are all on the same page, which gives the athlete time where they can open up one on one with their coach. The three coaches work to make their program a space where the athletes can feel safe to express their opinions and recognize that it is acceptable to have off-days because it is difficult to be 100% all of the time. The coaches also have a deep appreciation for astrology and they strive to spread it through the team, often by bringing different crystals and doing a lot of meditation during practice monthly. Coach Gruber uses multiple crystals, but often uses moonstone, amethyst, and blue lace agate. These crystals bring calming, focusing, and positive energy to those using them, and she uses them within the dance team to reduce any possible tension at practice.
Grant varsity dancer Madison Riskey and her teammates agree that even though dance takes up a lot of the time and can be stressful, they have found a schedule throughout the season that has worked for her to manage to get school work done and training for dance. Emma Matoka thinks that "having time to relax helps a lot."  She values "knowing that it's okay to have fun and laugh during practice."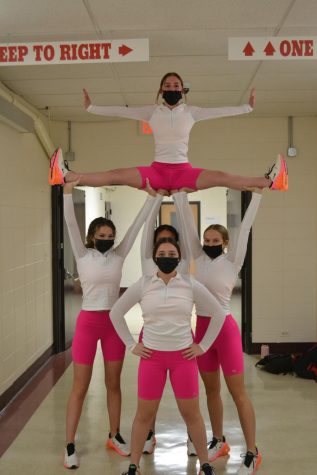 COVID-19 has and continues to take a big toll on teenagers' mental health, but now that we are finally getting back into the swing of things, these dancers have had to re-adjust to the closest form of the normal they knew before the pandemic. A huge part of that was finding motivation and remembering why they're on the dance team. For these dancers, it's not just dancing itself, but the training that they put in every day to work towards being their absolute best. Maddy believes that "COVID has made [her] push harder for the competition season because we missed out last year and I want to make this year the best it can be." These girls are putting all their stress and fears behind them when they enter that studio to make this season the best it can be. Even when it is a  struggle to find motivation, they know when it comes to dancing nothing else matters besides what is going on in that moment, and if there are any struggles dance for them is a safe space to be able to open up without being judged.
This competition season is immensely different from football and summer because the first wave of competition season is intensely physical and the dancers must put in more effort than years previous when relearning the choreography. When relearning and cleaning up the routine, all hands are on deck to remember counts of how the music plays, being creative when it comes to rechoreographing, and the team's tester people to test out different tricks and stunts. But most importantly, competition season is different from the rest of the year because of the memories that are made and the connection that continues to get stronger over time. The team overall is very grateful right now to be with each other and be able to compete against other schools in person after a year of not being able to compete in person.